Financing options are available from participating dealers.
Search to find what financing options are available from local dealers.†
†All credit offers, applications, and approvals are processed through and performed by a 3rd party, and not Dealer Tire, LLC, Mitsubishi Motors North America, Inc., dealership, or any of their affiliated business entities.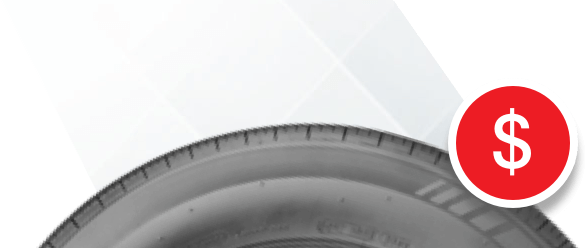 Mitsubishi Price Match Promise
Purchase your tires with peace of mind. Find a lower price at an eligible competitor, and we will match it.*
*Restrictions Apply. See your Dealer Service Advisors for additional details. Internet quotes are only valid if the competitor has a brick-and-mortar retail location (that installs Tires) within fifty (50) miles of the participating Dealer.
24
-

MONTH ROAD HAZARD COVERAGE

Eligible tires purchased at your Mitsubishi dealership include 24-month road hazard coverage.

You'll get:
100% coverage for two years*
Flat tire changing assistance available
*Eligible Tire repairs covered up to $40. Replacement coverage up to $599 per Eligible Tire. Eligible Tires will be replaced only when road hazard damage cannot be safely repaired per industry standards and guidelines. See Program Terms and Conditions for more details.
CHECK YOUR TREAD
.
WILL YOU BE ABLE TO STOP WHEN YOU NEED TO?

6/32" OR MORE
NO NEED TO REPLACE

4/32" - 5/32"
CONSIDER REPLACEMENT

3/32" OR LESS
REPLACE*
Are you willing to take the risk? Newer tires can help you stop sooner on wet roads. All tires wear down over time and eventually need to be replaced. To find out if you need new tires, see your service advisor today for a complimentary tire inspection.
*2/32" is illegal in most states.